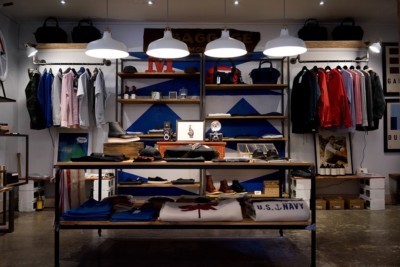 It is undeniable that one of the best parts of owning a retail store is designing one. The interior of the store not only affects the way products are presented, but it also has a major impact on the overall shopping experience of your customers.
Visual merchandising is a strategy that uses the store's aesthetics to drive sales. It combines different design elements to create a story that coincides with the buyer's journey. From the smart usage of empty space to the visibility of new items, this retail strategy creates brand awareness and fosters brand loyalty.
Not all retail stores have large spaces, however. Many store owners have to make do with a venue the size of an average studio flat – wasting space is not an option. An overly designed store tends to look cramped and uninviting. Customers will more likely turn away from your store rather than linger to look at the merchandise.
Find out how to properly design for retail when your store's space isn't the biggest. The Shelving Shop Group has compiled useful tips for you to try when designing your store.
Go for the Minimalist Route
Excellent visual merchandising is key to keeping a store's appearance impactful. It is important to know how much you have on your hands and what exactly you want to achieve.
If a retail store has minimal space, to begin with, a minimalist interior is a highly suitable design. Go for angular furniture and structures rather than curves and protruding textures. This makes for a straightforward design that directs the gaze towards your products rather than everywhere else in the room.
It's All About Elevation
Ditch the short display tables and think vertically. According to Jerry Birnbach, a respected store-planning consultant, displaying items on varying levels helps you maximise the space that you have in your store. Since the products are at eye-level with your customers, they will also inevitably find your display more visually appealing.
Libby Langdon, a respected interior designer and author, also mentions that stacking items from the ceiling to the floor like bookshelves draws the eyes upwards, creating the sense of a larger space. Shelving Shop Group's durable and aesthetically valuable wall mounted display shelves are designed to offer space-efficient solutions to retail stores. They're easy to install and can carry heavy items for your display needs.
The Benefits of a Wall-Mounted Shelving System
Going vertical is a smart option for stores that have limited space. Traditional racks and tables will often take up valuable floor space. By using a wall-mounted shelving system, you maximise your floor space without getting rid of your displays. With less equipment on your floor, you and your customers have more space to walk around.
Maximise your store's floor space by opting to use a wall-mounted shelving system. Aside from helping you save valuable space, there are other benefits to using this system for your store.
Wall shelves double as display cases for your merchandise. Be creative in organising the items you place on the shelves so they act as decorative pieces for the store. This is also an effective way to bring more attention to new products or on-sale items.
This shelving system can be enhanced for heavier merchandise. Using heavy duty wall brackets, give your shelves the support they need. These will keep each panel from collapsing even if put under considerable weight.
Designed for retail, a wall-mounted shelving system is customisable. Incorporate your branding guidelines by painting them in your brand's colours. Personalise these shelves to better suit your store's aesthetics to strengthen brand recall and awareness.
A wall-mounted shelving system will help you keep your store organised. The openness of this storage system makes it difficult to simply leave items lying around. It encourages your staff to make sure everything is in its place, especially after they have been returned haphazardly by customers.
Space-Saving Solutions from Shelving Shop Group
Shelving Shop Group is one of the leading experts on storage solutions. Our wall-mounted shelving systems and pallet racking systems are customisable for retail applications. Other than these, we have a wide range of commercial and warehouse storage systems for businesses across New Zealand. Find what you're looking for when you