Sturdy Solutions for New Zealand Retailers
Our wooden shelf brackets are designed to carry heavy loads and large quantities of goods. They are manufactured from sturdy, strong timber and are subject to rigorous testing to ensure a high degree of stability and performance.
Safety is our number one priority. We understand the specific needs of New Zealand retailers, and we have tailored our solutions accordingly. Because New Zealand is vulnerable to earthquakes, you need shelving products and wall brackets that can hold and remain stable during a seismic activity.
Helping You Create an Organised Workplace
To create a truly functional and organised workplace, it is important to choose products that fit seamlessly into the design and structure of your building.
We help retailers and offices optimise their layout by utilising space wisely in a manner that allows for seamless navigation and mobility while keeping your products organised and securely displayed.
Our products are highly customisable. If you have any specifications or design requests, simply let us know and we will take care of it for you. We also employ a dedicated team to install our timber shelving brackets.
We at Shelving Shop Group always aim for high quality. Contact us and we can help improve your workplace.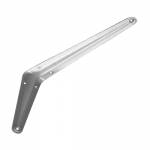 Light Duty Shelf Brackets
Colour: White
| | |
| --- | --- |
| M1 10 x 75 | 100 x 75mm |
| M1 12 x 10 | 125 x 100mm |
| M1 15 x 12 | 150 x 125mm |
| M1 20 x 15 | 200 x 150mm |
| M1 25 x 20 | 250 x 200mm |
| M1 30 x 25 | 300 x 250mm |
| M1 35 x 30 | 350 x 300mm |
| M1 40 x 35 | 400 x 350mm |