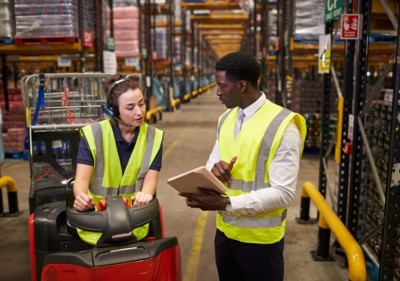 A professional and independent pallet racking inspection for your warehouse is one of the best ways to reduce legal risks and ensure your employees are safe. Regular inspection and repair of your racking system is a vital element of warehouse management. Industry experts suggest that inspections must be carried out at least once a year.
Don't Ignore Rack Damage
If you ignore rack inspections or repair, you are putting your employees at risk of getting hurt. Neglecting rack damage could cause your racking system to collapse, which usually continues in a domino effect. If you notice the slightest damage to your racking system, contact a professional racking inspector for them to assess the structural integrity of your racks.
Pallet Rack Safety
There are several aspects you need to remember about pallet rack safety. First, any damages that are identified by inspectors as needing immediate replacements should be properly labelled to ensure the aisle or bay of the damaged rack is cordoned off with safety tape until it is replaced.
If you or your inspector notice your racking system has severe damage, consider adding a column protection to all frames to prevent constant replacement, which would be expensive over time. If you have pallets that are resting on a wire deck, make sure that your wire deck is durable enough to support your pallets. An inspector will inform you if your wire deck has to be changed to a more durable material to support your rack's heavy load.
Making Your Own Spot Checks
Even with the help of our professional inspectors, consider conducting occasional self-checks of your racks. Your inspection should focus on whether your racks are level and not overloaded.
Racks that are not levelled have been poorly configured or installed in areas where there may be issues with its foundation settling. The floor may have certain imperfections such as gaps or a slight incline that puts your rack's base out of alignment or vertical leaning. If you notice these signs, contact a professional inspector to help you level your rack system.
Overloading is the primary cause of racks bending and eventually collapsing. Not only will this cause damage to your goods but it can also cause severe injuries to your employees. To avoid overloading, remember to check capacities of the rack to know its maximum weight.
Beyond Rack Inspection
Racking inspections are not enough to ensure the safety of your warehouse. After inspections, you should document all findings and recommendations so that you can take action according to your findings.
Finding the Right Rack Inspector
Shelving Shop Group offers convenient pallet racking inspections that adhere to AS and NZ safety standards. We are a 100 percent independent auditor of different types of pallet and warehouse racking systems. Our professional rack inspectors ensure that they find out the most pressing discrepancies of your racking systems.
With our racking inspection services, your warehouse employees will have a peace of mind regarding safety when working. Call 0800 180 280 to talk to us about our services.