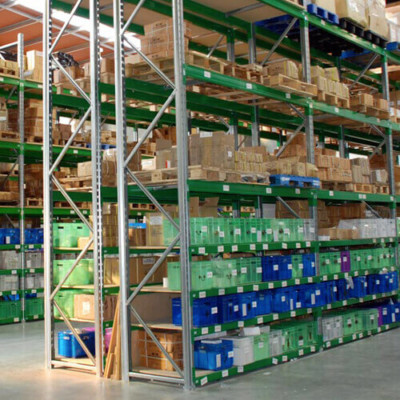 As retailers and distributors race to deliver items, businesses strive to improve their efficiency by utilising new technologies. The trend is to look for the best warehouse management systems (WMS) that will allow them automate storage and retrieval in a cost-efficient manner.
Amid all these exciting new technologies, it can be easy to overlook the impact that pallet racking has on warehouse performance. Though it is often pushed to the background as just another simple component of the material handling system, proper rack design nevertheless plays an enormous role in the efficiency of your operations.
This is how the right pallet racking boosts your warehouse' performance and what you should consider when designing one:
Pallet Racking Improves Warehouse Efficiency
Every minute counts in the materials handling industry – each minute that passes adds to your operation costs, which includes wages, land costs, lighting and heating. By focusing on proper rack design, you can improve speed and efficiency in a cost-effective way.
One example of how pallet racking improves efficiency is its potential to reduce the time spent on order picking. The time a worker spends travelling from one shelf to the other during order picking can quickly add up – in some cases, order picking can take up as much as 55% of the warehouse's operating costs.
By using the right racking with the right layout, retailers and distribution centres can maximise space and effectively reduce order picking costs. A well-designed racking system also has the flexibility to accommodate different types of bulk goods. This way, you can easily adjust or configure your racking should there be changes in your product line or warehousing operation.
This eliminates the need for additional warehouse expansions. Workers can spend less time travelling between shelves, which allows for the faster retrieval of goods.
Putting the Products at the Centre
The purpose of a warehouse is to provide goods a safe storage space prior to export or distribution. Thus, the products should always be at the centre of the racking design process. Some of the questions to consider include:
What are the sizes and weights of the products to be stored?
What are the types and construction of the pallet?
Are the products well contained in the pallet or do they overhang?
Looking at the Whole Picture
All pallet racking systems must comply with physical site and local government codes. Always look at the whole picture, and be sure to take note of factors such as:
Seismic Assessment
Regardless of your location, the risk of seismic activity should always be a factor in designing your pallet racking system. Though some areas of New Zealand experience higher seismic activity than others, it is still a major risk to your warehouse operations.
Your design will vary depending on the seismic classification of your location. These variations include everything the racking's beam design, to the size and type of connectors, to how they are welded to the beam.
Site Safety
Safety is paramount in a high-risk work environment. Local safety codes and international standards must therefore have weight on the racking design process.
When it comes to fire safety, for example, the racks should not obstruct emergency exists in any way. If your warehouse requires in-rack sprinklers, you will need to add larger spaces between the racks to accommodate the special bracing of the pipes that will run along the racks.
Depending on your needs, you can also consider the use of pallet racking accessories such as column protectors, safety mesh and front gates.
Pallet racking may be static but they are far from simple. Designing racking requires due consideration to ensure a warehouse's safety and performance.
The Shelving Shop Group has 25 years of experience in conquering space through innovation. In our years of service, we have helped businesses all over NZ in designing, manufacturing and installing warehouse storage systems. For highly customised or industry-tested solutions, contact us today.