From concept to completion, our team is 100% committed to conquer your space with innovation – providing a complete solution.
In the unlikely event you aren't satisfied, we provide a 7 day exchange guarantee*, to ensure your complete satisfaction.
*Installation and freight costs not included. Subject to terms and conditions of sale.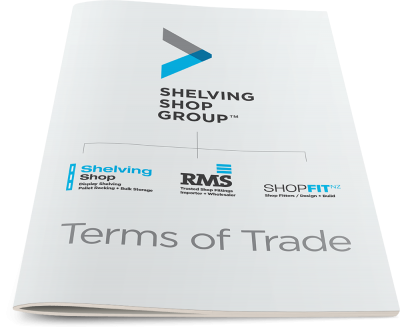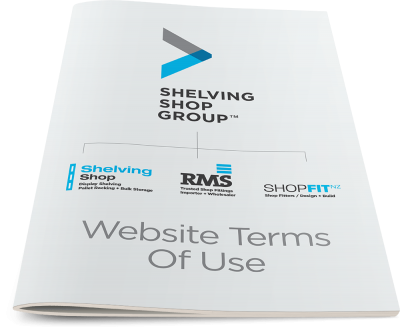 The use of this Website is subject to these Terms and Conditions (inclusive of Our standard Terms and Conditions for the supply of Goods and Services, Privacy Policy, Refund Policy any other documents referred to herein) which constitutes the full agreement between You and Us.
Please read these Terms and Conditions carefully before You use the Website.
By using the Website, You indicate that they have, effective upon the date on which You have used the Website, read, accepted and agreed to be bound by these Terms and Conditions.
If You do not agree with these Terms and Conditions, You should cease using the Website immediately.
Definitions
"Agreement" means the terms and conditions contained herein, together with any quotation, order, invoice or other document or amendments expressed to be supplemental to this Agreement.
"We", "Us", "Our" or "Ourselves"" means Shelving Shop Group Limited, its successors and assigns or any person acting on behalf of and with the authority of Shelving Shop Group Limited.
"You", "Your" or "Yourself"" means any person/s (end user) being of the legal age of eighteen (18) years.
"Incidental item(s)" means goods and/or services that may be purchased or sold through this Website to be supplied and/or provided by the Seller to You, as specified on Our Website.
"Website" means a location which is accessible on the Internet through the World Wide Web and which provides multimedia content via a graphical User Interface.
"Prohibited Content" means any content on any advertising media that:
is, or could reasonably be considered to be, in breach of the Broadcasting Act 1989; the Fair Trading Act 1986, the Consumer Guarantees Act 1993; or any other applicable law or applicable industry code; or
contains, or could reasonably be considered to contain, any misrepresentations; or is, or could reasonably be considered to be, misleading or deceptive, likely to mislead or deceive or otherwise unlawful; or
is, or could reasonably be considered to be, in breach of any person's Intellectual Property Rights (including, but not limited to, the distribution of digital files or any other material in which We do not own the copyright).
"Personal Information" means any information that identifies or can be used to identify You, directly or indirectly. Examples of Personal Information include, but are not limited to, first and last name, date of birth, email address, gender, occupation, or other demographic information.
"Confidential Information" means information of a confidential nature whether oral, written or in electronic form including, but not limited to, this Agreement, a party's Intellectual Property, operational information, know-how, trade secrets, financial and commercial affairs, contracts, Seller information and pricing details.
Acceptance
We reserve the right to change any of the Terms and Conditions displayed on this Website (including our Privacy Policy) at any time by notifying You through this Website that We have done so. By continuing to use this Website it shall be deemed that You agree to be bound by the amended terms and conditions as notified and posted on the Website.
If You intend to transact through this Website (i.e purchase goods and/or services) then You warrant that You are at least 18 years of age, that You have the power to enter into this Agreement and You acknowledge that this Agreement creates binding and valid legal obligations upon You.
Compliance with Laws
You represent and warrant that Your use of this Website will comply with all applicable laws and regulations (including but not limited to, EU Data Privacy Laws (including the General Data Protection Regulation "GDPR") (collectively, "EU Data Privacy Laws") and the New Zealand Privacy Policy Act 1993 (including the Privacy Amendment (Notifiable Data Breaches) Act 2017) or any other applicable laws.
Privacy Policy
We are committed to protecting Your Privacy in accordance with New Zealand Privacy Principles. We also recognise that when You choose to provide Us information about Yourself that You trust Us to act responsibly and in Your best interests therefore We have the following policies in place to protect Your personal information.
Storing Your Information
We will take all reasonable steps to ensure that Your information held by Us is accurate up-to date, complete, applicable, is not misleading and will only be used for the purposes stated in this document and/or Our Privacy Policy. We will maintain security safeguards to protect Your information and will take all reasonable steps to ensure that Your information is not disclosed to any unauthorised person or entity.
Securing Your Information
When making a transaction through this Website Your information will pass through a secure server using SSL (secure sockets layer) encryption technology. The encryption process ensures that Your information can not be read by or altered by outside influences.
Information We Collect
When You request Goods or Services We may collect Personal Information supplied by You when You complete an online form in order to facilitate the purchase of Goods and/or Services. Such information will enable Us to process Your transactions efficiently, analyse our Website services and enable Us to provide a higher level of customer service (which may include informative or promotional activities).
We may also collect the following information/tracking data for statistical purposes and to help Us understand how to make Our Website more available and user friendly for You and to measure the success of any advertising activities We may under take:
Your IP address.
The date and time of Your visits to Our Website.
Your clicks and activity on this Website.
The referring Website if any through which You clicked through to this Website.
Technica