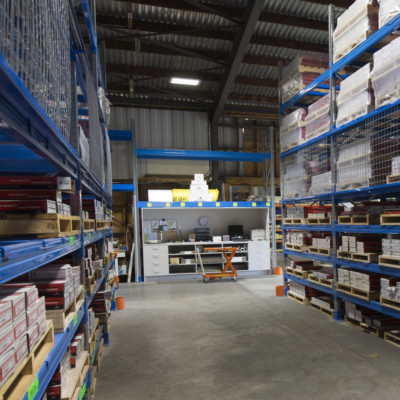 There is no 'one size fits all' in pallet racking. When it comes to choosing the best pallet racking solution, a range of factors comes into play: product volume, turnover rates and warehouse space.
Maximising Warehouse Space with Double Depth Pallets
If you are looking to increase your storage density without compromising accessibility, a double depth pallet racking system is an ideal solution.
Double depth pallet racking is a system that features two rows of pallet racks set back-to-back. This system is similar to selective pallet racking but instead of having two rows of pallet racks per row, double depth pallet systems have a total of four racks per row. This feature allows you to increase your storage capacity without expanding your warehouse space.
Advantages of Double Depth Pallet Racking
Often used in LIFO (last in, first out) types of warehouses, double depth pallet racks can increase your warehouse's floor space by up to 60 per cent. Double depth pallet racking is the ideal system if you are storing multiple quantities of the same item. With double depth racks, you get complete control of your product selections allowing you to experience excellent cube utilisation.
By having four rows of pallet racks per aisle, double depth pallet systems eliminate unusable aisle spaces, making them a cost and space-efficient option.
Having a double depth pallet racking system will require you to invest in a specialised forklift such as a double deep reach truck. But with the investment comes more room for revenue-generating storage space.
Heavy-Duty Industrial Pallets from Shelving Shop Group
Shelving Shop Group specialises in various warehouse pallet racking systems for different industrial applications in Australia. Our wide range of pallet racking systems is built with high load capacities to give you maximum storage density and smart use of warehouse space.
Along with double depth pallet racking systems, Shelving Shop Groups offers other pallet racking options such as:
· Selective pallet racking
· Drive-in pallet racking
· Flow racking
· Cantilever racking
· Raised storage areas
All our systems are designed to withstand New Zealand's seismic conditions. They are equipped to handle large volumes of items while remaining solid and secure even during a seismic activity. Designed for heavy-duty purposes, our pallet racking systems are robust enough to help reduce forklift damage, collapses and other challenges often encountered in a warehouse setting.
Expert Consultation and Reliable Customer Service
Choose the system that suits your warehouse space and your storage needs. We have an in-house team of specialists ready to help you through the process of identifying your needs and giving you expert solutions. With our personalised customer service, we will lead you to the right pallet system based on your requirements. Our goal is to help you increase your storage and maximise your warehouse space in the smartest and most efficient way possible.
As part of our customer service, we also perform product deliveries and installations upon request.
For all your warehousing needs, get in touch with us today.