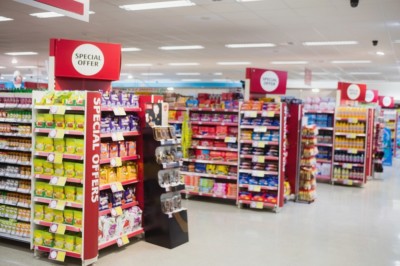 For retail stores, presentation is everything. If your storefront is unattractive, it's less likely that customers will enter your store. Consider using various shop fittings to make your store look more functional and aesthetically appealing for your customers. You can use high-quality shelving, sales counters and display systems to create a floor plan that helps increase sales and highlights how your brand stands out from competitors.
Attractive Lighting
A well-lit retail store does not only look more welcoming to your customers, it also allows you to emphasise particular products. There are many different lighting styles that offer a distinct look to your storefront. You can use warm yellow lights to highlight your premium products.
For your new products, you can put them near the entrance or at the centre of your store and place a spotlight on them to attract customers' interest. When it comes to lighting, using the right style has a huge impact on the atmosphere and appearance of a store.
Use Versatile Shelving and Display Systems
When running a store, make sure that you are displaying your products in the right manner. In the retail world, one of the most crucial aspects is product placement. When displaying a product in your store, you are making a statement so it must be properly planned.
All your products should be presented with maximum visibility to your customers. Your display strategy depends on the type of products you offer. Most retail stores use eye-level shelving, but if you are selling products for children, you might want to consider lower shelves. When you use shelving and display systems properly, expect higher interest from your customers.
Cabinets and Sales Counters Make a Good Impression
Sales counters and cabinets are other essential shop fittings for a retail store. A sales counter is usually where compulsive buying happens, so make sure to use this shop fitting to maximise a sale. Placing popular products on or around the sales counter can entice your customers to add it to their purchase.
The right shop fittings can help boost sales and maximise what you customers are willing to spend per visit. You can increase spend by using attractive and functional display cabinets to showcase your products. From economical cabinets to exquisite ones, there is a wide range of cabinets to choose from depending on the type of product you sell. Choose from glass display cases with lockable hardboard doors, wall display cases, tower cabinets and more. Using the right sales counter and cabinets for your store can influence your customers' purchasing decisions.
Take it from the RMS Shop
If you are looking to improve your sales, start taking advantage of RMS shop fittings. The RMS Shop is your source for top-tier shop fitting accessories. The fittings come in a wide range of colours and finishes. We offer display systems, shelving systems and other shop fitting fixtures. We have zinc and chrome plated metal fittings that minimise staining and corrosion. We also have plastic shop fittings made from hardwearing acrylic that lasts for years.
All of our shop fittings are made to the highest standards, providing you with shop accessories that are designed to meet the needs of New Zealand retailers.
Call 0800 180 280 to order RMS shop fittings now.