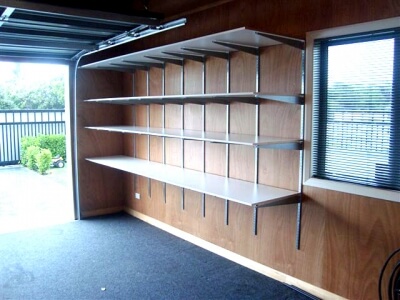 From dress shops like Miss Smith's Closet to global jewellers like Tiffany & Co, each store has a different approach to interior design and layout. But take a closer look, and you will find similar patterns or design strategies.
From the walls to floor space, well-designed retail spaces can direct the customer around the store, all the way down to the checkout counter.
How?
It starts with the threshold, leading to the power wall, then around the shop, and ending in the checkout counter. Let us go over the areas in detail.
1. The Threshold: Where Your Customers Decompress
Many think that the entrance area should be filled with goods and displays to entice customers to buy or further explore the store. But this is actually counterintuitive. Customers usually enter a store with the intent of buying something they need and getting out fast. Any item you place by the entry point will be ignored.
It is wiser to utilise the threshold as a decompression zone – a nice, clear, no-engagement area that puts customers in a calmer state and in the mood for shopping. Give the customers a clear wide space and specialised lighting to help them mentally transition from the distractions of the outside world to focusing on your shop's offerings. The zone has to offer a vista view of the store – and a promise of the excellent shopping experience that awaits them.
2. Turn Right: The Power Wall
The power wall is where you start convincing customers to buy. This should be a high-impact display area that makes a good first impression. You can choose among your high-demand products, high-profit items or new and seasonal items, and arrange them in a way that's engaging and inviting.
You can use a mix of displays to show how the items interact with other items or demonstrate the benefits of having those items. It is best to put the power wall on the right side of the decompression zone as customers tend to turn right first when exploring a store.
3. The Mini Store Travel – with Detours
You can use your shelves and displays to guide your customers through the shop. Going deeper into the store and seeing more of your products on display, customers may be reminded of a product they've been meaning to buy or simply inspired to do some impulse buying. Create a good mix of clear paths and little obstacles – like small tables with displays – to slow them down while exploring your store.
4. A Great Ending: The Point of Sale
A good shopping experience should be consistent from start to finish. As such, the checkout counter must be free of any possible stress points. The area should be clean and organised, and the counter itself should be big enough to accommodate shoppers' bags.
To continue the great visual story in your store, you can use the wall behind the counter for more engaging displays. You can also showcase high-margin items or little luxury products to trigger another round of impulse buying. Just remember to keep the arrangement tasteful and clean, and free of any visual noise.
Excited to use this design strategy for your store?
Let Shelving Shop Group help. We have businesses that specifically help retail stores with their storage and display needs. RMS provides quality shopfittings and accessories, and ShopFit NZ provides complete fitout services.
Boost your sales with a well-designed store. Contact us today.