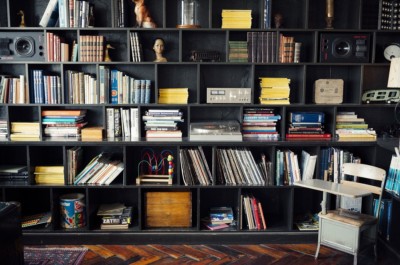 Without a proper storage area, books take up the space meant for other things. You might end up putting them in boxes or drawers, where they would be buried and forgotten.
You didn't buy those books to be hidden from view, though; they're better off placed somewhere you can easily reach. The best way to do this is by displaying them neatly in a neat row like in a library.
A spare room is ideal for this endeavour, but if you're working with a small area, Shelving Shop Group offers a great solution — wall mounted shelves. These are attractive and functional features that make for a great library space. Allow us to explain how you can build your library with wall mounted displays of books.
Putting the Books on Display
Books lying around the house works for some but with the right storage solution, your books can be a great feature of your home. Organise your bookshelves by colour for a visually pleasing aesthetic or author or theme. Place interesting bookends or craft pieces on the shelves to highlight themes. The choice is yours. Curate a home library that showcases your love for books with a beautifully designed shelving system.
Wall mounted shelves allow you to display your books neatly. You can find a specific book easily or go through your entire collection when you're looking for a leisurely read. Books, after all, bring several advantages apart from an enjoyable pastime. The effects of reading on academic achievement among children are well documented.
Unlike a bulky floor shelf, wall mounted storage gives you better spatial efficiency. You can opt to put a desk or a couch underneath the wall mounted shelves to get more usable floor space. This shelving system is also ideal for floor to ceiling shelves. It will still help you save space because you only have to account for the width and depth of the shelves instead of the ornate design typical of floor shelves, desks or cabinets.
Here are some design tips you can apply to make the most out of your wall mounted bookshelves.
Choosing a Space at Home
Wall mounted shelves maximise the space you have, which is especially important if you have a cosy home. They're customisable, so they can fit into various wall sizes, wide or narrow, high or low. Builders can also install them in unusually shaped spaces where conventional, freestanding bookcases can't fit. Choose anywhere, from a spare bedroom to the hallway to your living room. Remember to select an area that can accommodate your book collection.
One of the advantages of wall mounted shelves is spatial efficiency. You don't have to remove the furniture attached to the wall; you can install the bookshelves above or around them. Similarly, if you're creating the library for children, you can install them lower on the wall. You can place your books on the upper shelves to make full use of the wall space. Our experts can adjust the height of the shelves so they can accommodate various book sizes.
Selecting the Right Bookshelves
You have a wide selection of wall mounted shelf designs to choose from. From materials to colours, there are several options that can be customised for your library wall shelves. Before deciding on one, consider the structural specifications you need. If most of your books are hardcovers, choose shelves that can accommodate the extra weight. This prevents the shelves from collapsing, or more likely, warping and bowing from the weight.
Keeping and Tossing Books
Before you purchase wall mounted shelves, determine the number of books you'll display. Although modern shelving systems are built to carry significant weight, they still have their limits. Avoid overcrowding your bookshelves to prevent any structural issues. Go through your book collection and decide which ones to keep and which to store or give away. After all, you might have outgrown some of them or know someone who needs them more than you do. If you're not ready to part with your books, consider putting the ones you don't want on display in storage to free up space on you