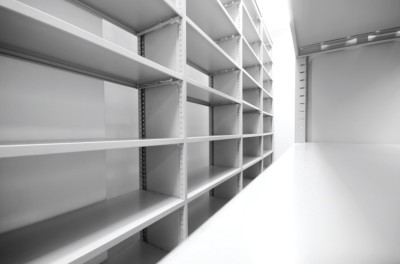 Safety, durability and quality are all crucial features in the retail industry. With the large volume of equipment they regularly handle, retailers need robust solutions that will optimise current operations.
As warehouses strive to adopt the latest technologies, businesses and retailers invest in commercial shelving systems that increase efficiency.
For retailers that do not have the floor space or budget for a pallet racking system, longspan shelving is a viable alternative. Longspan shelving is a smart storage option capable of storing light to medium sized items.
The versatile system is suitable for garage shelving, warehousing and retail shops, among other applications.
Here are some of their major benefits to retail operations:
They are strong but lightweight
Longspan shelving is made from tensile, 24-hour gauge steel, making it lightweight yet durable. That means longspan shelves can be transported and moved around the room without compromising strength and durability. Longspan shelves can typically hold up to around 600kg per shelf.
They are easily adjustable
Longspan systems are flexible and easy to adjust; both features are useful for retail stores of limited size. Most longspan shelves are made with rivets and pins instead of bolts and nuts, allowing users to modify and customise them depending on the specific requirements. The future-proof designs also make the shelves easy to reconfigure, meaning there's no need to alter or fidget too much with the shelf's default settings.
Thanks to their flexibility, longspan shelving systems can hold many types of products and merchandise of different sizes and weights. By adjusting the shelf, retailers can store bulky and heavy-duty items or organise their items more efficiently.
They are compatible with various types of equipment
Most longspan shelves can work with different types of storage systems, such as vertical reciprocating conveyors or freight lifts. You can also use perforated steel panels, gratings or wooden walkways, depending on your requirements. They can be easily integrated into your existing equipment to enable you to transport or move your goods around easily.
You can also integrate longspan shelving systems into pallet racking systems or for high and low rise applications for order picking, should the need arise.
They are cost-effective and easy to maintain
Longspan shelves make for a practical, economical option. They're typically more affordable than most shelving systems, with little need for maintenance. Cleaning and sanitation are made easy, especially with steel shelves. The shelves do not break or wear out easily, so you don't have to worry about repair costs.
Longspan shelves can be a highly effective solution for retailers with budget and space limitations, contributing to the overall efficiency in retail stores.
Shelving Shop supplies a complete range of storage and display products for clients throughout Australasia and the Pacific. Whether your business is a small, one-branch warehouse or a large national retail chain, we have the expertise to deliver quality fit-outs.