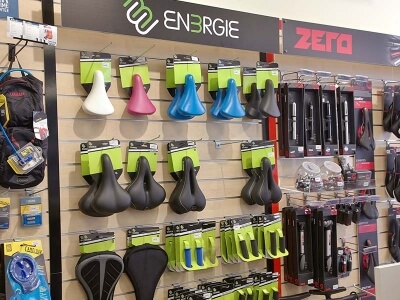 Today's retail shoppers place importance on brick-and-mortar aesthetics and the overall shopping experience. Many purchases are no longer based on the price and the actual product alone. Given this buying behaviour, visual merchandising matters now more than ever.
One concept that helps in effective visual merchandising is spatial efficiency. A store that does not appear stuffed or bulky but rather looks easy and relaxed is immediately visually appealing. One sign of bad design is if customers feel like they have to navigate a crowded shop.
Enhance your shop's visual merchandising by freeing up some floor space using wall displays. This type of store hardware allows you to expand your product display space without the bulky look of standard shelving displays.
Achieve Floating Displays with Slatwalls
Slatwalls, a kind of wall display hardware, are mobile retail shelving units that can be mounted on specially designed legs or installed on walls. The latter option creates a floating effect when paired with floating shelf displays.
This type of floating display is fully customisable, allowing you to easily reconfigure the aesthetics of your shop and have full control over how to display your products. Just slide one shelf out and replace it with another one of a different size or colour. There is no need to set up, break down or reassemble anything with slatwall shelving.
A Sleek Space-Saving Solution
The floating display of slatwall shelving gives off a light and airy look. In effect, the space appears less cluttered and overloaded. Having products displayed on the wall also frees up floor space and leaves little room for excess and crowdedness.
With slatwall shelving's open display, your products are more accessible to shoppers. For customers, all these factors — the illusion of space and easy product browsing — contribute to a convenient, hassle-free shopping experience.
High-Quality Shelving Hardware
Shelving Shop Group manufactures a complete range of shop fitting accessories and shelving hardware. Each of our shelving systems, from our wall brackets and displays to clothing racks, undergo rigorous quality control and adhere to the highest industry standards.
RMS, our division dedicated to shop fitting solutions, specialises in shop hardware that not only organises your goods but also creates a clean layout that draws attention to your products. From hardware stores to luxury boutiques, we have solutions that fit your industry and your preferences.
Durable Shop Hardware for NZ Stores
Given NZ's seismic activities, we make sure that our wall shelving displays are made from robust and resilient materials. Our shop hardware is designed to keep your goods secure, with high loading capacities to display as many products as preferred.
With many years of experience in the industry, we have consistently manufactured products that deliver a high level of performance.  Talk to one of our friendly consultants for the most suitable hardware that meets your requirements.
Get in touch with us today.