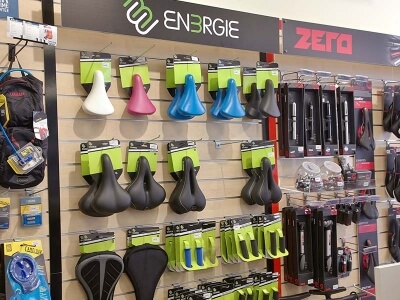 Installing vertical wall displays for your store is one of best ways to market your products and attract potential buyers. Vertical wall displays also allow you to make the most of limited store space, giving you creativity and flexibility when designing your product displays.
Here are some of the benefits of using vertical wall displays to present your goods:
Creating a focal point and an illusion of space
Vertical wall displays enhance visual impact by creating a focal point to attract your customer's attention. When the items are grouped together vertically, customers simply have to follow a visual line from top to bottom, allowing for easier browsing.
Vertical wall displays give your store the illusion of more space, adding to the comfort of your customers and enhancing their overall shopping experience.
Vertical wall displays can be paired or stacked with other similar items to give structure to your store without compromising your overall theme.
Almost all retail merchants can utilise vertical wall displays. Some examples are:
Sporting goods
Sporting goods are about boosting power and performance. Sellers can increase their buying power by starting with an effective product display.
One trick you can use is grouping items together. Placing specific items together helps create a story and encourages cross-selling. For example, pair trainers with sports tights and a running top to create a unified look.
Toys and collectibles
You can be playful and creative when showcasing toys and collectibles. Draw the attention of kids (and kids at heart) with well displayed collections.
A vertical wall display allows for tactile interaction with your items. Lining up toys at the bottom parts of your shelf help children easily see them. A recent Deloitte study confirms that buyers are shifting from actual consumer goods to 'experiences'. Allowing your customer to have that kind of retail experience will invite more foot traffic, more purchases in your store and ultimately, more sales. .
Art and antiques
Displaying art and antiques can be an art form in itself when you utilise shop fittings for your store. Designing with a custom collection in mind can give your store a unified look without adding too much visual clutter. Look for display fittings that complement your overall theme to better highlight your collectables.
Let's boost your sales today
Investing in the right wall bracket benefits you in multiple ways: from increasing visibility and visual appeal of products to contributing to their security. At Shelving Shop Group, we have a service specifically designed for specialised components for shop fittings.
When your store invests in quality shop fittings and well-manufactured wall brackets, it will pay itself back in ways that benefit your business in the long term.
Shelving Shop is a leading wall bracket manufacturer in New Zealand. We offer high quality shop fittings made of durable materials. With more than 45 years in the industry, you can trust us to meet your needs with excellent service. Contact us on 0800 180 280 for further enquiries.