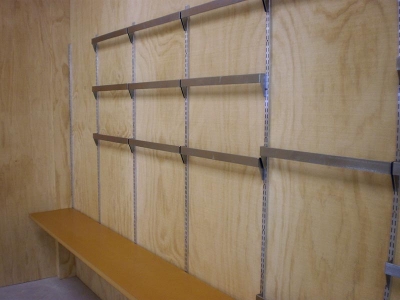 How to Install Wall-Mounted Shelving
If you want to maximise the space you have in your store, installing wall-mounted shelving is a great choice. It's an elegant way of displaying products and provides an easy view of the items for you and your customers. Wall-mounted shelves are also a great storage solution when you're adding more products to your store without cluttering the floor space.
Mounting shelves does not always need a professional hand, since they're easy to install. You don't need to set up several components, as the shelving is made up of ready-made shelves, brackets and channels.
You can easily add storage to your shop with our line of wall-mounted shelving. Here at Shelving Shop Group, our ready-made shelves are strong, durable and easy to install.
Here's a quick how-to guide on installing our shelving systems.
Select a location
Before installing a shelf, choose a location based on the available wall space on your store layout and the ease with which you want to access the items. Make sure that the shelf doesn't block a door swing and is easily seen in the room. It helps if you use a cardboard cut-out of the size of the shelf to have an idea of how the wall will appear once it's occupied by shelving.
Prepare the tools
Having the necessary tools for the project will save you time and frustration. Before you start installing the wall-mounted shelving, make sure that you have the following tools available:
Drill
Extension cord
Flathead wood screws
Level
"Delicate duty" masking tape<