Display Shelving
Shelving Shop Group offers a wide range of retail display shelving for shops and other commercial establishments. This includes farm merchandising stores, service stations, dairies and supermarkets.
Our display shelving is versatile and easy to assemble, using simple clip together systems. You can rearrange and display your products with ease, adding and removing components to fit your exact specifications. We carry high stock of this range in 2 colours, with the option to custom powder-coat to your specific requirements.
We provide a huge range of accessories for easy customisation. We offer wire baskets, Perspex shelf fronts and many more specialised fittings. All shelving is available in standard sizes.
Estate Display Range
This full range of solid timber display shelving adds a superior touch to your showroom. Made in New Zealand from beautifully stained and sealed timber, it will increase the perceived value of your product without even trying!
Liquor Display
Superior range of solid timber displays
Made from solid timber
Both styles are available either in Rimu or Wenge stain, and with two styles of bottle holder.
Sizes
| Post Heights (mm) | Shelf Depths (mm) 900mm wide | Shelf Depths (mm) 600mm wide |
| --- | --- | --- |
| 1400mm | 300mm | 300mm |
| 1700mm | 400mm | 400mm |
| 2000mm | 450mm | 450mm |
| 2300mm | Other Sizes - Please Enquire | Other Sizes - Please Enquire |
| Other Heights Available | | |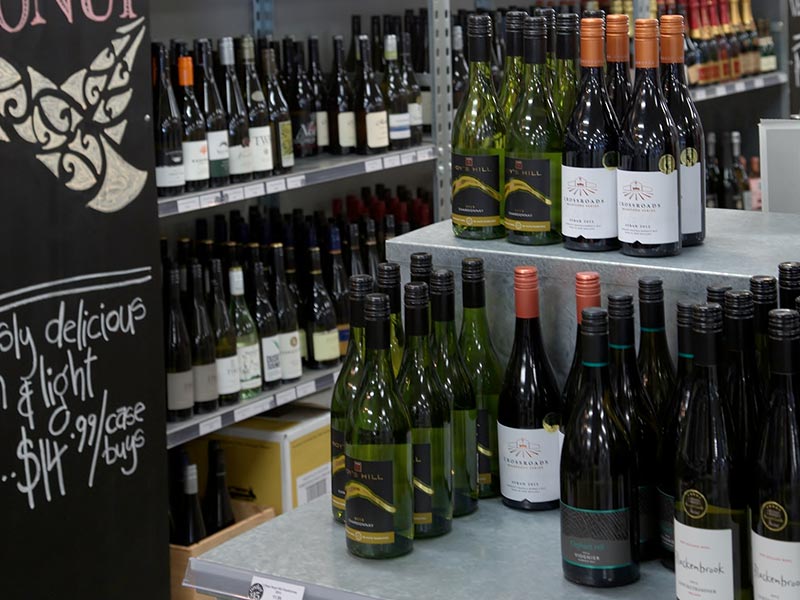 Features
Strong – heavy duty retail display
Free standing – no extra bracing needed
Adjustable – shelves to suit your requirements
Sturdy – clip together construction
Versatile – a huge range of accessories available to suit your needs
Options
Wire baskets
Sloping brackets
Perspex shelf fronts
Peg board backs
Wall channel
Many specialised display fittings
Assembly
Simple to Assemble
Our commercial display shelves are easy to transport and assemble. You can easily assemble them yourself, or simply ask us to install for you. We offer a 2 year installation guarantee for all of our shelving systems which have been installed by our team.